// PR SAMPLE // KBEAUTY //
When the Korean brand Klairs launched their first anti-aging product some time ago I was kindly offered a bottle of the Klairs Midnight Blue Youth Activating Drop for reviewing purpose by Wishtrend. As I have stated more than one time I really appreciate the products from this brand and so far they never have failed me and some have become steady companions in my skincare. As you can guess, with my age I'm also interested in anti-aging, apart from caring for my dry skintype. It is really exciting to see what direction Klairs goes with their first product targeting aging skin.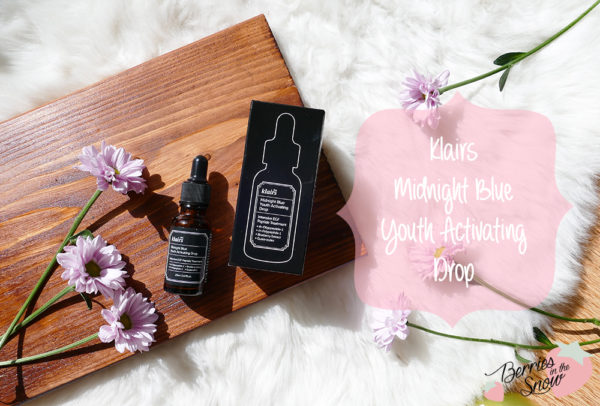 Klairs is a Korean brand which is eco-friendly, producing products which are animal-testing-free, alcohol-free, paraben-free, artificial-color-free and recently they are vegan, too. Their products address people with sensitive skin and people who want to moisturize their skin. I reviewed some of their products before, like the Klairs Freshly Juiced Vitamin C Serum or the Klairs Midnight Blue Cream, which both convinced me in their effects. I also love the Klairs Klairs Supple Preparation Facial Toner, which by the way has been updated and improved. Their saying "Simple but Enough" really nails it and I think that many people will agree in that point with me.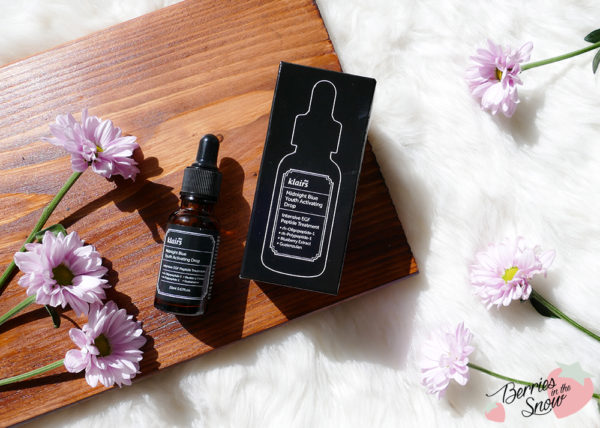 The Klairs Midnight Blue Youth Activating Drop is a night serum containing the peptides EGF (rh-Oligopeptide-1) and bFGF (RH-Polypeptide-1) to target aging skin. The serum is made with only 10 core ingredients and without the use of purified water and acts as a high concentration/ high strength delay aging serum.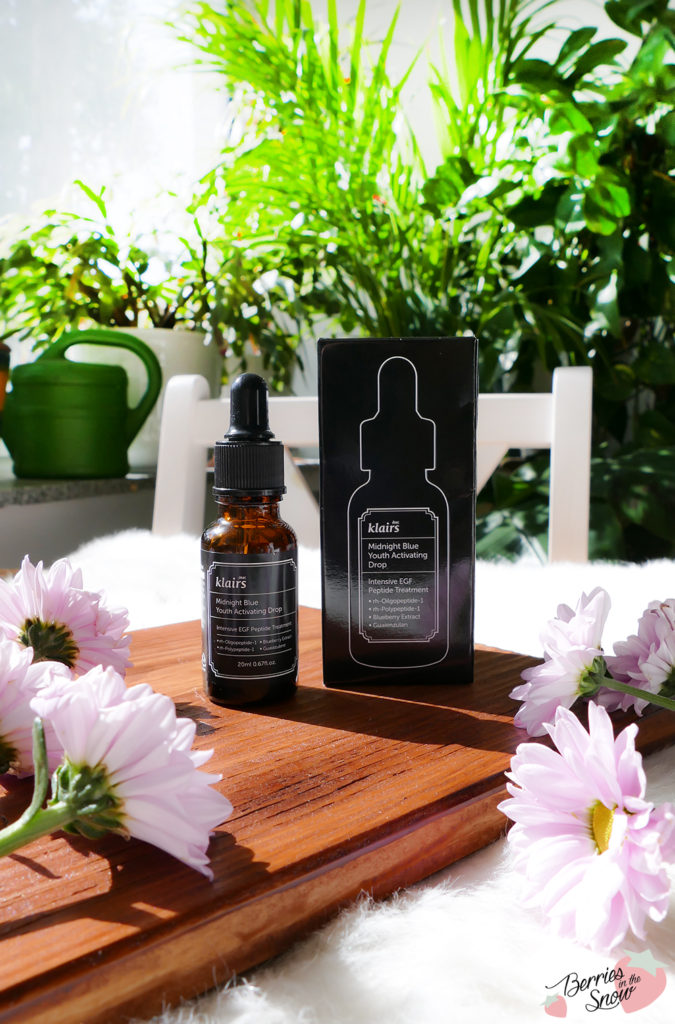 The key ingredients are the two peptides, EGF and FGF. What are these two and what do they actually do for our skin? EGF is the short-term for Epidermal Growth Factor. In the ingredients list you will find it as oligopeptide-1. The EGF targets specific receptors in the cell (EGFR) and is the necessary molecule for this receptor in order to work. From the name you can already tell that it promotes the cell growth, so it is important for our body, since dying and growing cells are a regular process in our body.
Short excursus: It is important to note the difference between the receptor and the EGF: EGF is not carcenogenic! Mutations in cells can cause overexpression of the EGFR for example, which means we have too many of these receptors in our cells, which can lead to uncontrolled growth of cells, means cancer. Other proteins can put the EGFR in a permanent on-state, which leads to uncontrolled growth of cells aswell.
FGF is the short term for Fibroblast Growth Factor and this peptide plays a role in wound healing of the skin. The FGFs play an important role for the so-called Fibrobasts. Fibroblasts are cells that produce collagen, hyaluronic acid and elastin.
So do peptides like EGF or FGF have anti-aging properties? Since the growth factors should address wrinkles in first place it has to affect the collagen production somehow in order to be beneficial for our skin. When EGF is applied with a cream it has to be absorbed into the dermis, the inner layer of the skin, to have any effect, and only a very, very small amount of topically applied EGF will be able to reach the dermis at all. And even if it helps to produce collagen it does not have any effect on the degradation of the old collagen. In conclusion we can say that the peptides may be responsible for a plumping effect of the outer skin layer, but it will not have any effect on the inner skin layer and therefore will not reduce deep wrinkles.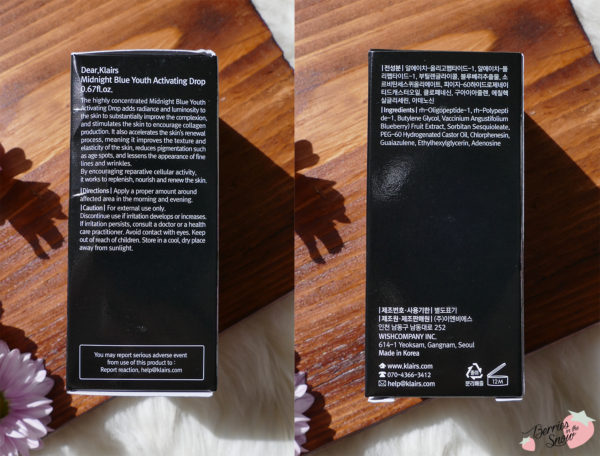 Apart from the lipids there are some other ingredients in this serum. Here is the full ingredients list:
RH-Oligopeptide- 1, RH-Polypeptide- 1, Butylene Glycol, Vaccinium Angustifolium (Blueberry) Fruit Extract, Sorbitan Sesquioleate, PEG-60 Hydrogenated Castor Oil, Chlorphenesin, Guaiazulene, Ethylhexylglycerin, Adenosine
As you see the list is very short and does focus on the essentials. It contains castor oil, blueberry fruit extract and adenosine. Also, it has a light blue color which is the result of the Guaiazulene. This was also an ingredient in the Klairs Midnight Blue Calming Cream. You can check the list via COSDNA, too.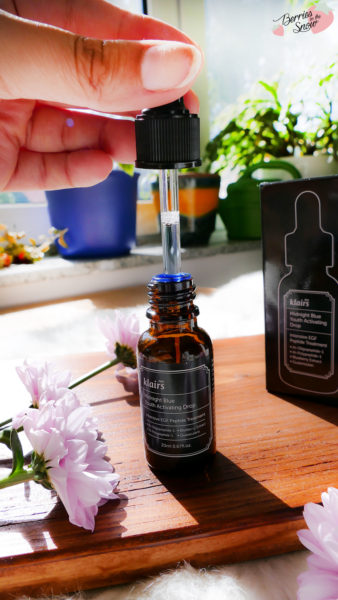 Here you can see the light color inside the attached dropper in the cap of the brown bottle. The bottle is small containing only 20 ml, but you only need few drops each night. The best way is to apply it after cleansing the skin and before applying any products containing oil/lipids.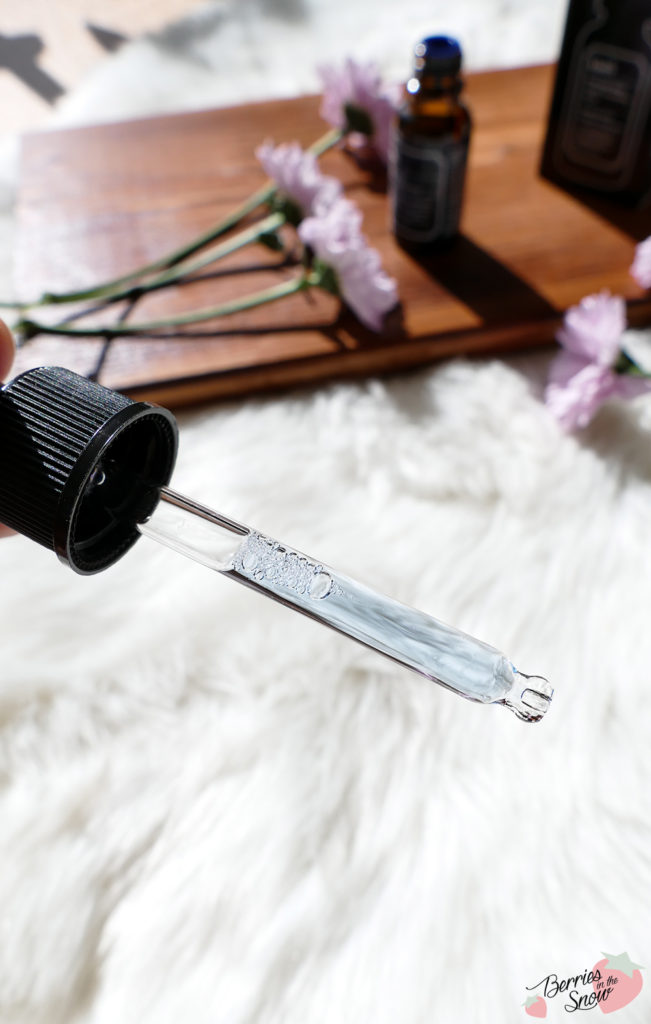 The liquid has a texture like water and reminds me of First Essences. It absorbs very fast and feels like nothing on the skin. Yet, the skin feels soft and smooth after applying. The product is scentfree, too. At least I didn't have the feeling that it had any specific scent.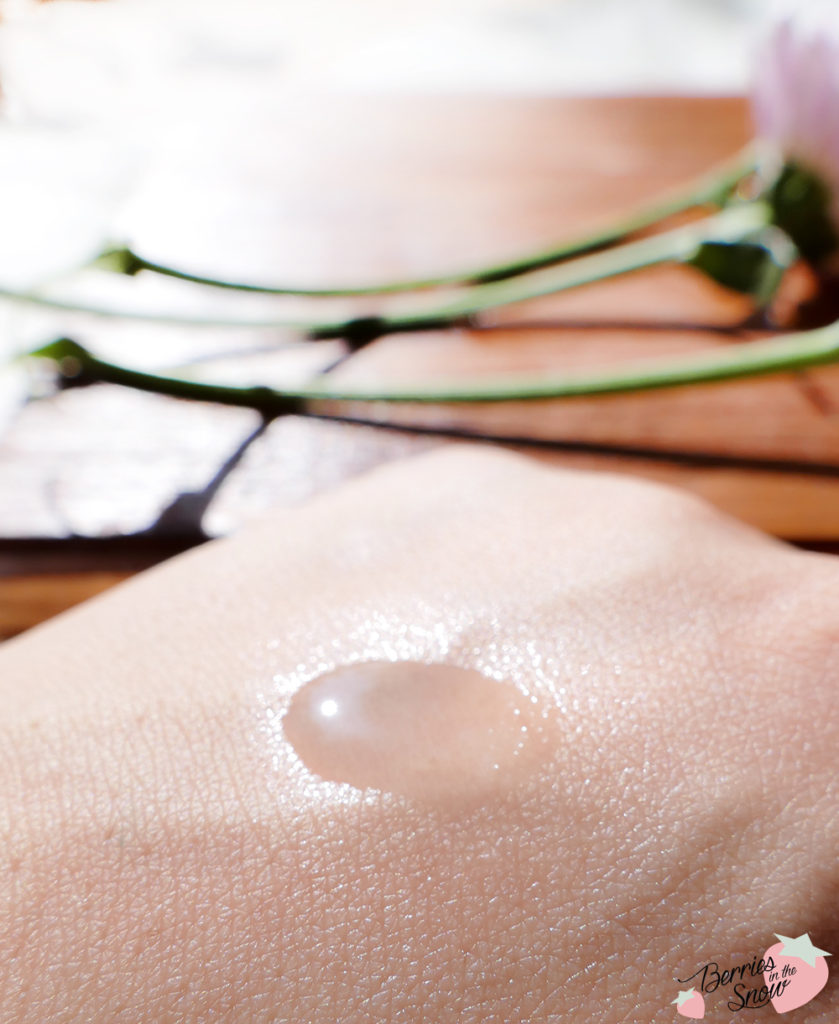 All in all it seems to be a nice product to start your skincare routine. As said, it is hard to say how effective peptides act when applied topically, even when they are applied as first product after cleansing. Somehow, the serum still has a good effect on the skin and makes it feel soft. I don't think that it will reduce any existing wrinkles though. I love the fact of the very short ingredients list, reduced to the essential components.
If you are curious about this serum, too, it retails for 30.00 US$ and is available at Wishtrend. You will find all the information about the I'm from Ginseng Serum >>here<<. Also keep in mind the friend-referral program from Wishtrend: You can receive a 5 Us$ referral coupon if you use my invitation code 17939205 upon registration and you'll receive this voucher immediately. There will be a specific field in your registration form called "friends invitation program" where you can put the code mentioned above. This way new customers can safe 5 US$ which is a great possibility to safe some money. also, Wishtrend has a Free-Shipping Area, were you can find products that can be bought with free shipping. Check out my post on the current Wishtrend Coupons. Until end of July you can try out the new I'm from Magnolia Wake Essence for FREE (you only have to pay the shipping costs) with the code >> IMFROMJULY <<!
What is your opinion on peptides for anti-aging purpose? Do you use any products containing EGF or other peptides?

♥ Pin It! ♥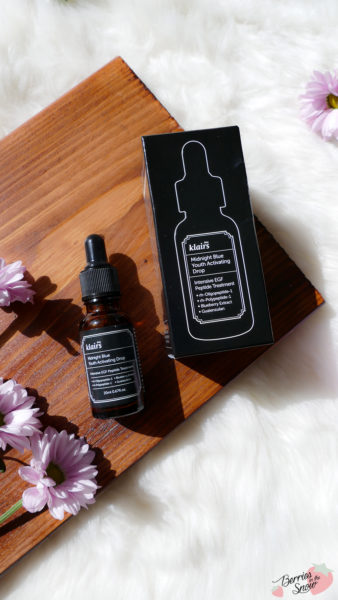 Just as a short reminder: All products mentioned and reviewed on this blog are of my personal opinions. This product here was sent to me for reviewing purpose by http://www.wishtrend.com/ which doesn't influence me in providing my honest opinion on the products.