Hey ♥
When I got my
Glossybox in May
I was really happy that I got a
Jelly Pong Pong Lip Blush
in red. I love lip products and I love red shades, plus the packaging of this lip blush looked really nice and it was a company I didn't know. From that day I received the Glossybox until now this lip blush became one of my favourite lip products and I use it alternately with my other every day favourite lip product,
Etude House's Kissful Tint Choux
.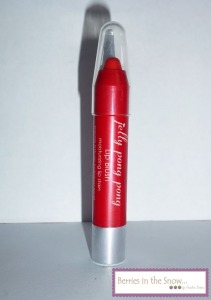 A moisturizing lip stain that tints your lips with just the right amount of juicy colour and hydrates like a balm. Apply liberally, purse and let the silky lightweight texture melt onto your lips.
Bonus : Made with beeswax and ceresin wax for a sheer, smooth application
The packaging is nice, but simply, in the color of the lip blush. It has a clear cap and a winding mechanism to wind up the lip blush. On Jelly Pong Pong's web page you can see, that the packaging of the lip blush is really cute and nice, with flowers printed on it. Unfortunately, it didn't come with the packaging in the Glossybox. :/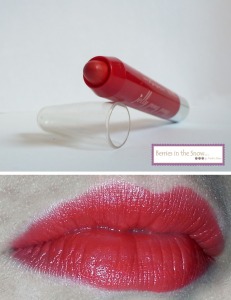 The texture of the lip blush is really nice and creamy. It has good pigmentation which stays on your lips a lot (unless you start eating a hearty meal). What I like most about it, is it's moisturizing ability. It really feels moisturizing on the lips and doesn't dry them out. Also, it doesn't crumble between the lines of your lips. I have often dry lips and I have a problem with some lipsticks that they set between the dry line, but this one gives you a nice evenly lip color. ♥
I recommend the Jelly Pong Pong Lip Blush to everyone who loves lip products and is in search of a good  every day lip blusher. Oh, and it's cruelty-free, too!♥
It costs 15 € (12 GBP) and contains 2.5 g product.
Rating: