A while ago I received the Wish Formula Fermented Oil-Free Dr. Mild Sunblock from Wish Formula and here are my thoughts on this new product. Although you should wear sunscreen everyday most people only think about their skin and sunburns when the warm seasons approach. I just want to remind you that despite the weather you should care about your skin and the potential harm the UV radiation is capable of- even if you do not see sunburns directly. Usually, with asian sunscreens you have to differentiate between the sunscreens which are made for outdoor activities and your day on the beach and the everyday sunscreens. Since this sunblock has not stated that it is waterproof or sweat-resistant I would categorize this in the everyday section and not suited for taking a sunbath at the beach.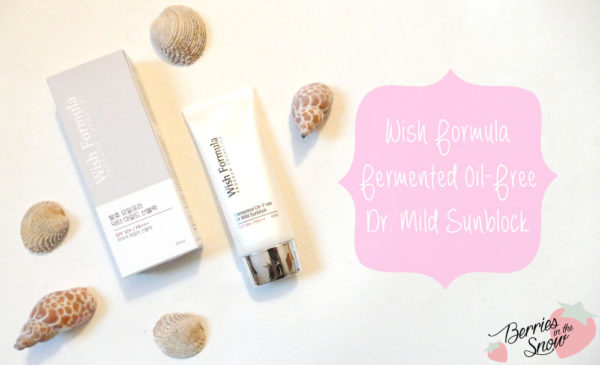 Wish Formula is one of these Korean brands I know for quite a while but apart from their Panda Eye Essence Patch I never tried any other products from this brand. They have a selection of skincare products and all appear very clean and dermatologically (?!) in a way. Also the Wish Formula Fermented Oil-Free Dr. Mild Sunblock has a very simple and neat design. The key color is white and the sunblock comes in a regular tube containing 65 g of product.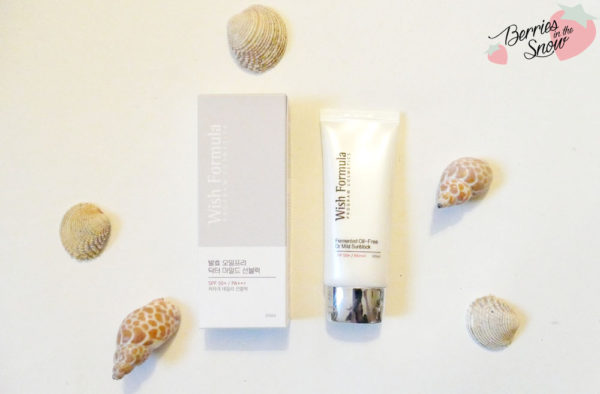 The Wish Formula Fermented Oil-Free Dr. Mild Sunblock is designed to give UV protection and be oil-free. Furthermore, it is hypoallergenic and has moisturizing properties.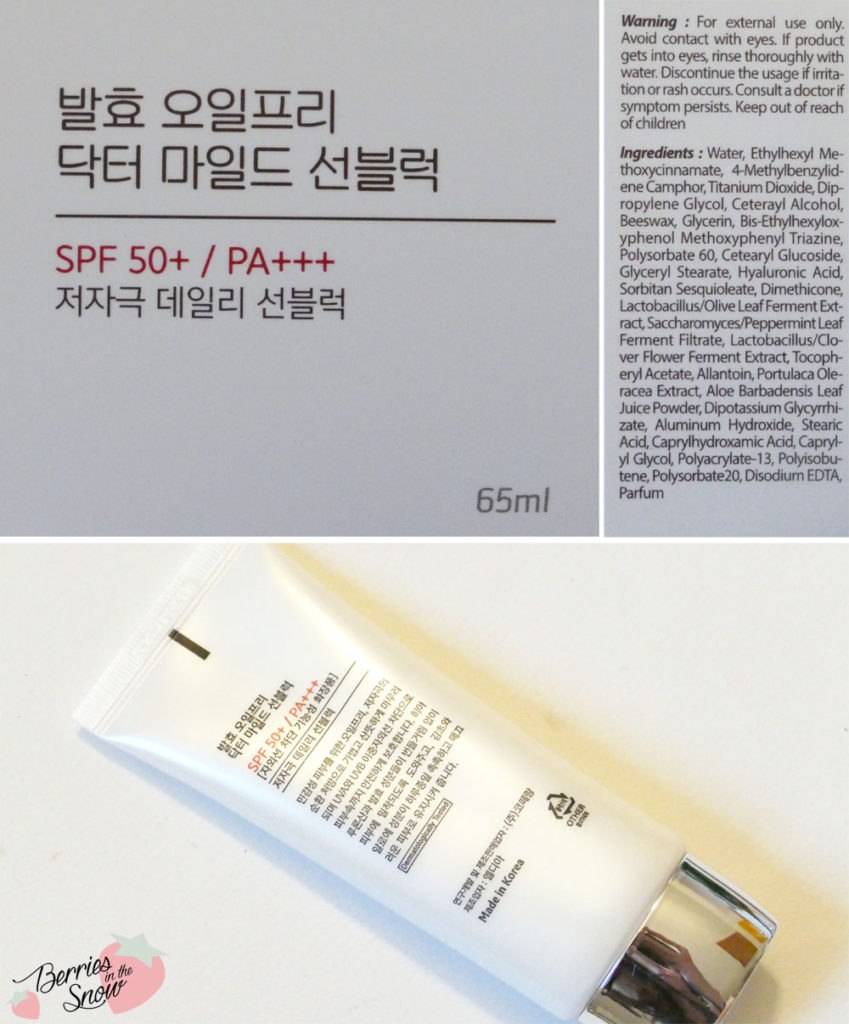 The cardboard box also has the English ingredients listed. It contains Ethylhexyl methoxycinnamate, 4-Methylbenzylidene Camphor, Titanium Dioxide, and Bis-ethylhexyloxyphenol methoxyphenyl triazine as sun protection ingredients, giving the product SPF 50 +/ PA+++. 4-Methylbenzylidene Camphor is red labelled according to COSDNA. The other ingredients in the list are mostly safe to use, with some potential irritants and acne triggers included. I personally didn't feel any negative influence on the condition of my skin while using this sunscreen. The fermented ingredients included are Clover Flower Ferment Extract by Lactobacillus and Peppermint Leaf Ferment Extract by Saccharomyces. Moreover it contains hyaluronic acid and aloe vera for moisturizing the skin. I did an collaboration interview on fermented cosmetics >>here<<, so if you are curious about my opinion on fermented products and why I love them head over :)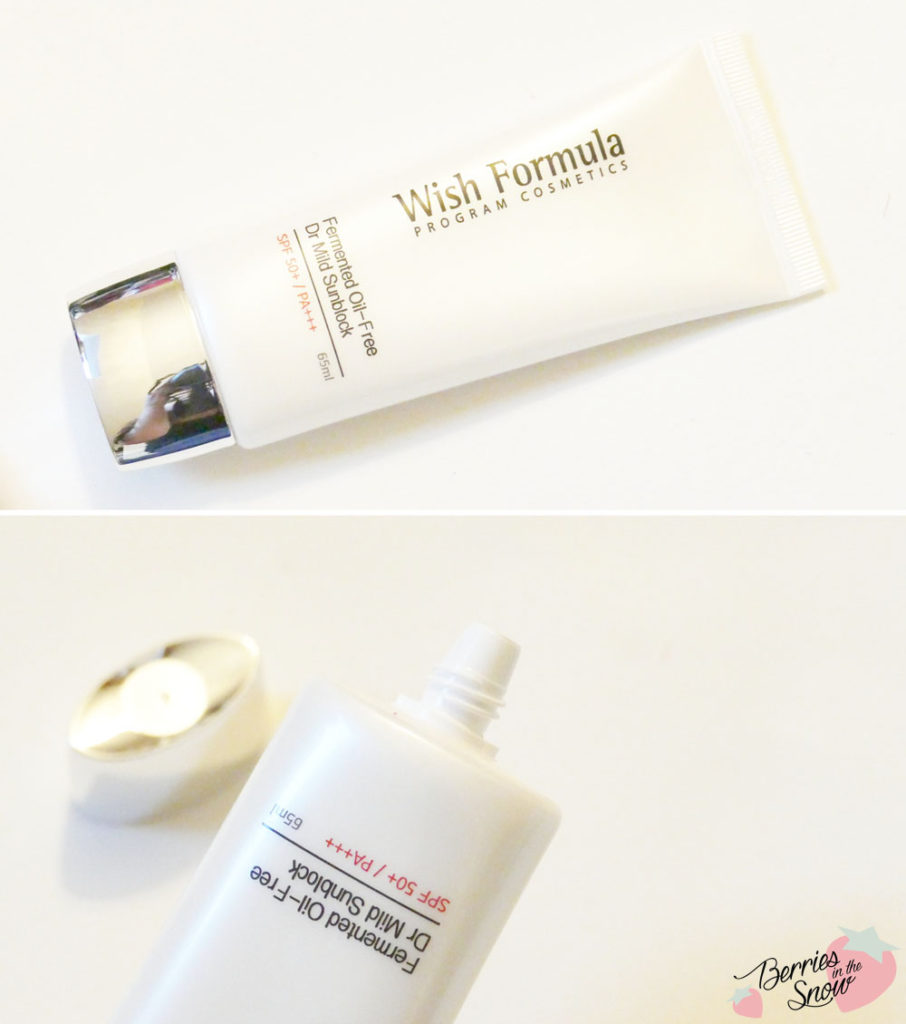 The Wish Formula Fermented Oil-Free Dr. Mild Sunblock has a creme-type consistency. It is not as fluid as the Biore UV Aqua Rich Watery Gel or the Isehan Sunkiller Perfect Sun Plus. It contains Cetearyl Alcohol, too, which helps that the product absorbs quickly into the skin. When rubbed I to the skin it leaves a slight white cast first, which adapts quickly though. The sunscreen is not greasy or dewy. Despite containing Aloe Vera and hyaluronic acid it doesn't feel moisturizing, but also not drying. I would describe it as well-balanced. Since it is not slippery or greasy on the skin it can be used with makeup on top and does not slide around.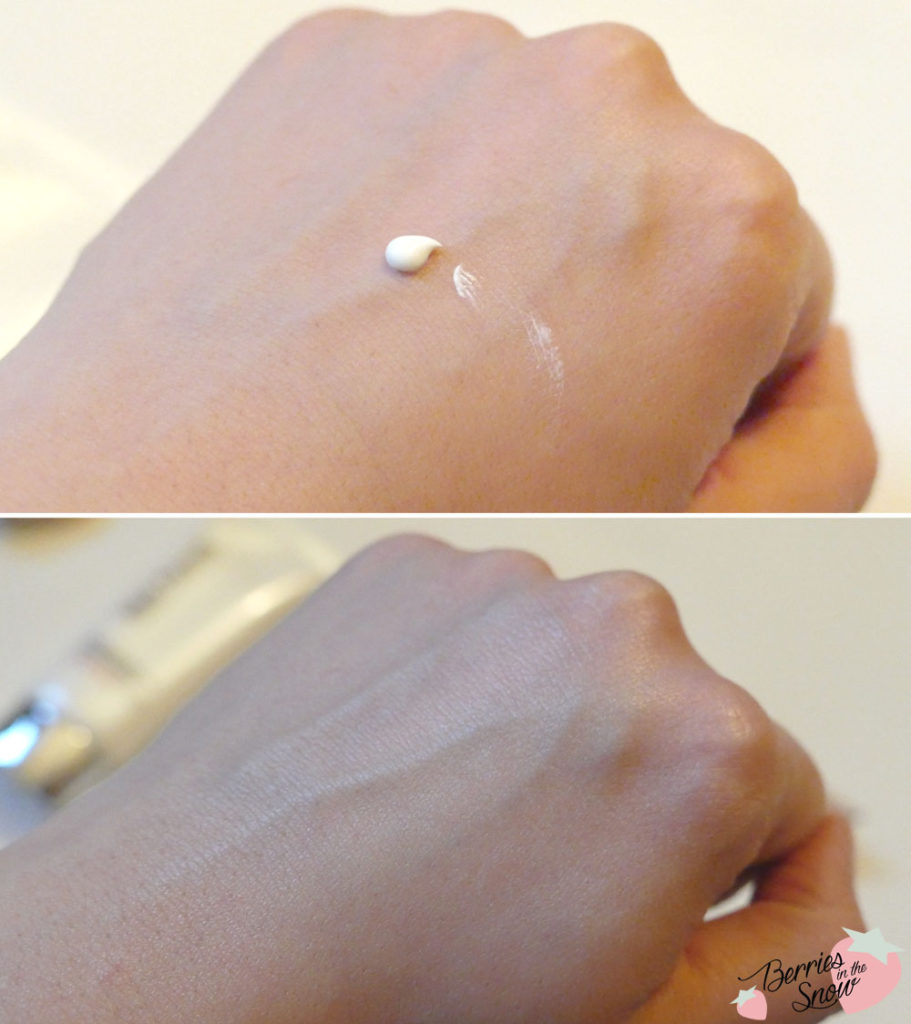 The Wish Formula Fermented Oil-Free Dr. Mild Sunblock is a good everyday sunblock which can be used below your makeup. It isn't as hydrating as the Biore UV Aqua Rich Watery Gel, but other than that we'll balanced and deserves the name addition "oil-free". I didn't see any significant changes of my skin's quality because of the fermented ingredients, but still it is a nice plus for this sunblock. It would be nice if Wish Formula updates the formula of this sunscreen to contain even less potential irritants.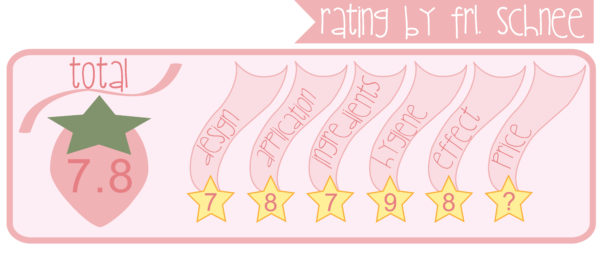 ♥ Pin It! ♥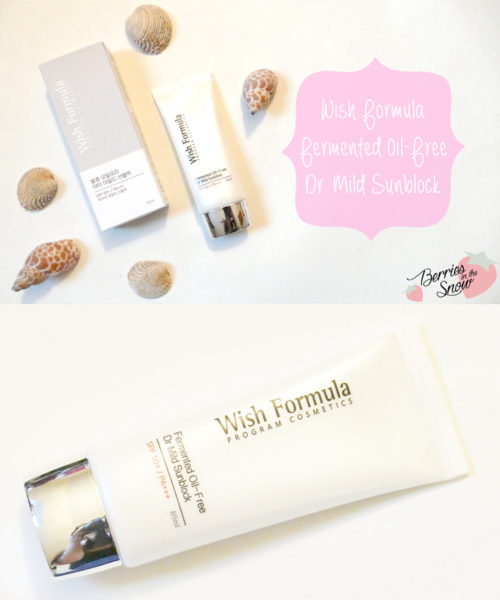 Just as a short reminder: All products mentioned and reviewed on this blog are of my personal opinions. This product here was sent to me for reviewing purpose by http://wishformula.com/ which doesn't influence me in providing my honest opinion on the products.