// SKINCARE / BEAUTY / PR SAMPLE //
It is rare that I'm wow-ed by a second cleanser like foam or gel, but here I have one that I absolutely love since I started using it: the Bio:Végane Skinfood Organic Acai Cleansing Gel! And surprise, it is not asian beauty product either :)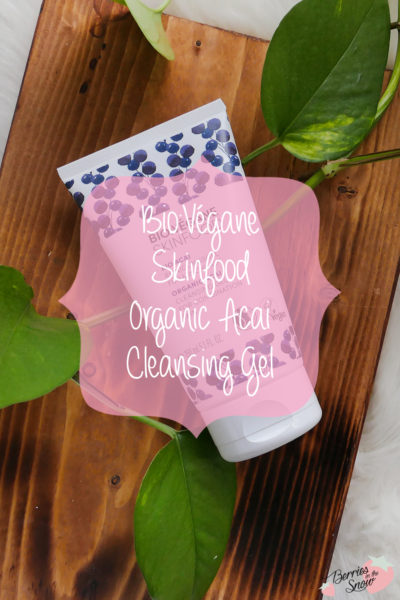 Bio:Végane Skinfood is a vegan and natural cosmetics brand that has launched newly in Germany. They first came into my view with one of the first certified sheet masks made in Germany and distributed in local drugstores. Always curious about sheet masks that are available here in Germany, I tried some of their masks and also received a few products from the brand's Green Tea line as a present from my sister, which I included in my skin care routine during the time.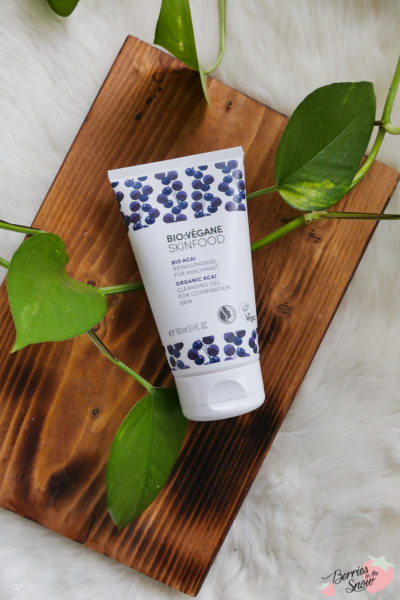 The Bio:Végane Skinfood Organic Acai Cleansing Gel was also a recommendation from my sister and kindly, when we went to the beauty convention Glowcon here in Germany, we were gifted a tube of this cleanser by the lovely people from Bio:Végane Skinfood.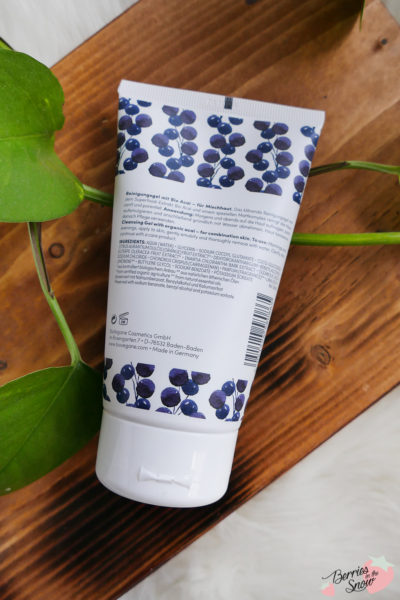 Bio:Végane Skinfood is free from paraffins, parabens, silicone, synthetic dyes and fragrance and of course it is free from animal testing. I don't know if it is relevant for skin care, but it is free from Gluten and lactose too. The brand is a certified natural cosmetics brand and their products have a clear product design, which is white in combination with a pattern that represents the key ingredient, eg. green leaves for the green tea line, or blue berries for the acai line.
The ingredients of the cleanser are: Water, Glycerin, Sodium Cocoyl Glutamate, Coco-glucoside, Citrus Aurantium Dulcis (Orange) Fruit Extract, Dehydroxanthan Gum, Benzyl Alcohol, Euterpe Oleracea Fruit Extract, Enantia Chlorantha Bark Extract, Oleanolic Acid, Sodium Chloride, Chondrus Crispus (Carrageenan), Fragrance, Linalool, Limonene, Butylene Glycol, Sodium Benzoate, Potassium Sorbate
The key ingredient Acai is a berry which comes originally from Brasil. It contains many antioxidants and is rich in vitamins, minerals, and micronutrients. Additionally, jojoba oil and wild rose oil prevent the hydration loss of the skin and act as moisturizing ingredients. In first place, this cleanser is dedicated for people with combination skin. I have dry skin and still I think this cleanser is suited perfectly. You can check out the details on the ingredients at SkinCarisma.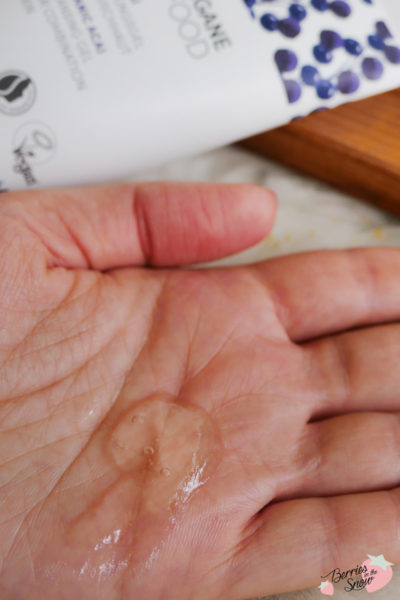 What I love about the Bio:Végane Skinfood Organic Acai Cleansing Gel is first of all the gel-type formula and the fact that it is not drying for my dry skintype. It does produce a moderate amount of foam nonetheless, which is enough to have that feeling of a foam cleanser despite the gel type formula. The second point why I love this cleanser so much is definitely the scent! It is really addicting and so fresh and fruity. Usually, I remove makeup with an oil-based cleanser first and then I use my second step cleansing foam, which would be this one here. My skin feels bright and clear after using it and no signs of any negative reaction or tightness. Additionally, it has some kind of matte effect on the skin, making it look extra clear. Currently, I'm using my second tube of this cleanser :)
The Bio:Végane Skinfood Organic Acai Cleansing Gel contains 150 ml and retails for 7.95US$. Currently, the products are only available in Germany. You will find the products at the drugstore dm or you can purchase directly from Bio:Végane Skinfood.
Did you come across Bio:Végane already? 
♥ Pin It! ♥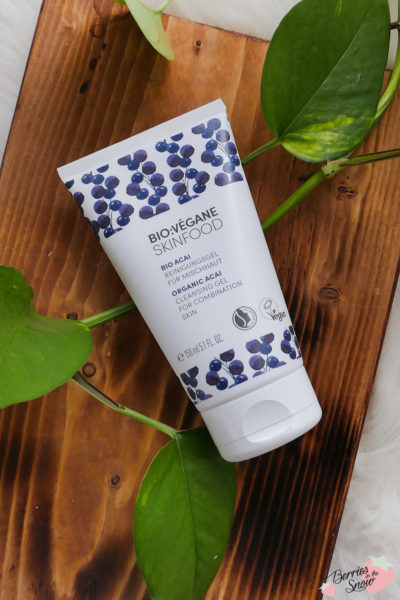 Just as a short reminder: All products mentioned and reviewed on this blog are of my personal opinions. This product here was sent to me for reviewing purpose by https://www.biovegane.com/s7/Content.action which doesn't influence me in providing my honest opinion on the products.