// PR SAMPLE / SKINCARE / KBEAUTY //
I'm always up for new skin care products and I love especially trying new serums. Some of my favorite key ingredients are vitamin C and snail secretion filtrate. A while ago I received two serums containing exactly these two ingredients: the Purito Pure Vitamin C Serum and the Purito Snail Repair Advanced 91 Serum from Eopenmarket for reviewing purpose. I have tested these two products thoroughly the last weeks and here is my verdict regarding these two products. Additionally, there will be a giveaway on my Instagram account, where you can win both products!
Purito is a rather young Korean brand with cruelty-free and 10-free skin care products. The products are free from paraben, ethanol, surfactants, artificial coloring, fragrance, triethanolamine, phthalein, triclosan, petrochemicals, benzoyl peroxide.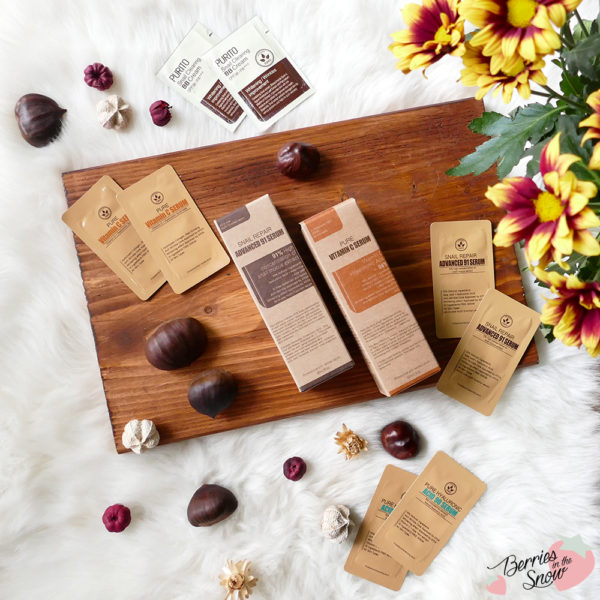 Purito Pure Vitamin C Serum
The Purito Pure Vitamin C Serum is directed towards anti-aging and prevents the formation of new wrinkles as well. It is highly moisturizing containing almost 90% of hyaluronic acid. 10% of the serum is ascorbic acid (Vitamin C). Vitamin C is always good to have in your skincare routine. I have tried a couple of serums in the past (check >>here<<). Vitamin C is an antioxidant and thus can prevent our skin from aging too early and from sun-damage. A high concentration of Vitamin C doesn't mean automatically that it is more effective concerning anti-aging. Normally, a high concentration of Vitamin C aims at a visible effect, because it tends to operate as a chemical peeling by loosening dead and old cells. This is not a bad effect and stimulates the skin to regenerate itself, but keep in mind that it won't affect the inner cell layers of your skin which have to be aimed if you really want an anti-aging effect. With 10 % vitamin C in this serum this serum lies between the OST C20 serum and the Klairs Freshly Juiced Vitamin Drop. The thing about Vitamin C is, that it oxidizes with time, and you have to use it up very quickly. You will see as the color of the serum will get more yellowish with time. A possibility to prevent the vitamin C from oxidizing is to stabilize it with ferulic acid or vitamin E or use derivates.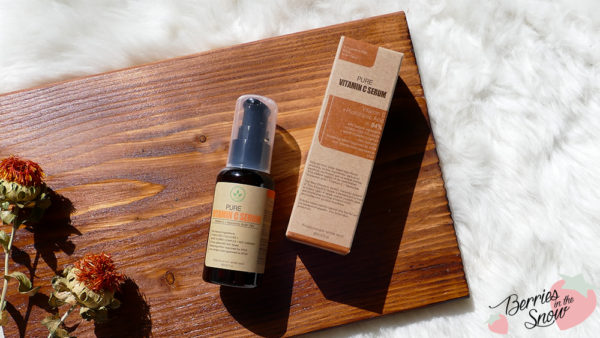 If you look at the ingredients list of this serum you will see that the ascorbic acid is not stabilized, so the only way is, to store it in a dark and cool place and use it up quickly, once opened.
ingredients: Sodium Hyaluronate (84%), Ascorbic Acid (10%), 1,2-Hexanediol, Niacinamide, Arginine, Human-Oligopeptide-1, Hydrolyzed Collagen, Nelumbium Speciosum Flower Extract, Magnolia Liliflora Bude Extract, Lilium Tigrinum Extract, Paeonia Albiflora Root Extract, Tuber Magnatum Extract, Pyrus Malus Extract, Red Ginseng Extract, Sodium Polyacrylate, Adenosine, Disodium EDTA
You can check for the properties of the single ingredients via Skincarisma. Ascorbic Acid and Niacinamide have brightening and anti-aging properties, and also arginine is directed towards anti-aging. The ingredients are also listed on COSDNA.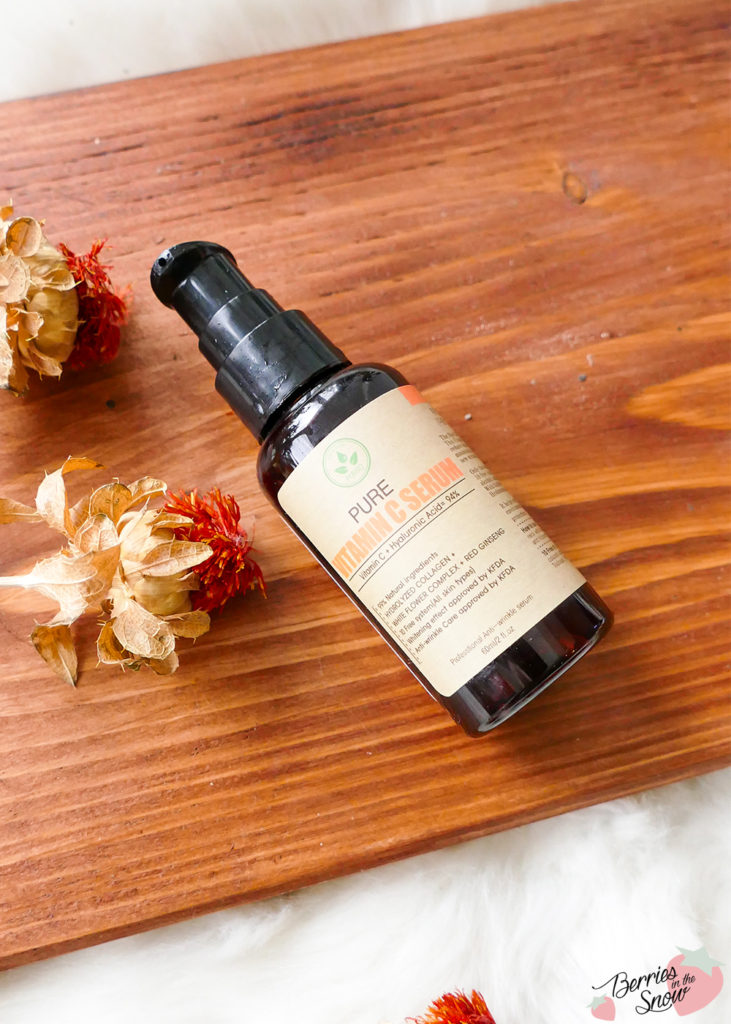 As you can see my serum already started to get darker in color and it is time to throw it out. Yet when I opened it up newly it already had a light yellow tint. The serum is a quite runny formula despite being a serum and it feels very moist and hydrating on the skin. It has no specific fragranced scent either. Once applied it will dry down after a while. At first, it will still have a slightly tacky residue, which disappears after some time without a trace. I don't have any before and after pictures of my skin, because I use a combination of many products which affect each other. But this serum definitely makes the skin feel softer!
Purito Snail Repair Advanced 91 Serum
The second serum from Purito is the Snail Repair Advanced 91 Serum and as the name says, this serum contains 91% of snail secretion ferment.  Snail Mucus claims to be rich in hyaluronic acid and antioxidants and thus help our skin to regenerate stimulating the formation of collagen, elastin and dermal components that repair the signs of photoaging. Also, it claims to minimize the damage generated by free radicals that are responsible for premature skin aging (there is a Wikipedia entry for snail mucus, too). The snail mucus is not obtained by harming the snails, but it is collected is so-called snail farms.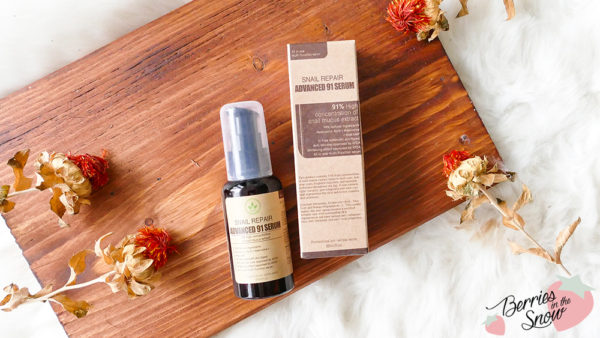 The ingredients are also listed on the cardboard packaging:
ingredients: Saccharomyces/Snail Secretaion Ferment Filtrate (91%), Glycerin, 1,2-Hexanediol, Niacinamide, Betaine, Sodium Hyaluronate, Sodium Polyacrylate, Allantonin, sh-Oligopeptide-1, Aloe Barbadensis Leaf Extract, Pyrus Malus Fruit Extract, Cucumus Sativus Fruit Extract, Camelia Sinsensis LEaf Extract, Adenosine, Disodium EDTA, Lavandula Angustifolia Oil, Eucalyptus Globulus Leaf Oil, Pelargonium Graveolens Flower Oil, Citrus Limon Peel Oil, Citrus Aurantium Dulcus Oil, Cananga
You can check out the properties of the single ingredients via Skincarisma or COSDNA. The Purito Snail Repair Advanced 91 Serum contains more ingredients than the Vitamin C Serum, but mostly plant-based extracts and oils. Again, because of the oils added people with sensitive skintypes should be aware of potential reactions.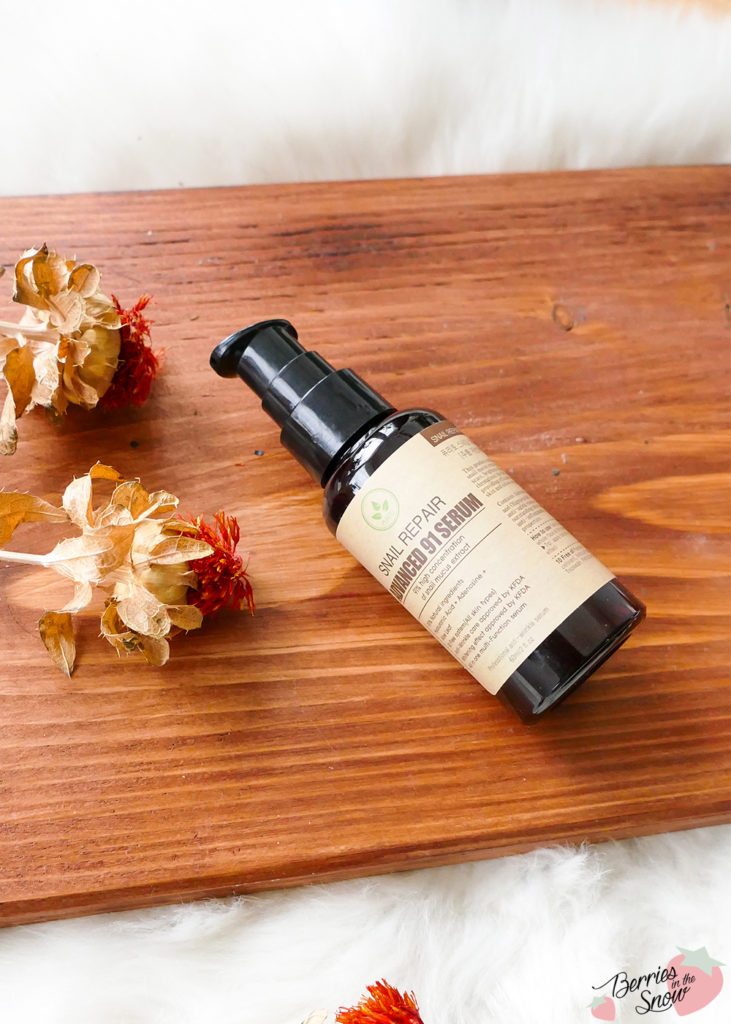 The serum has a clear color and feels a bit tackier upon application. But also here the product absorbs without traces after a while. This serum is free from any fragrance, too, and feels calming on the skin. I love using anything that contains snail secretion on irritated skin and troubles. I feel they help to reduce redness and irritations.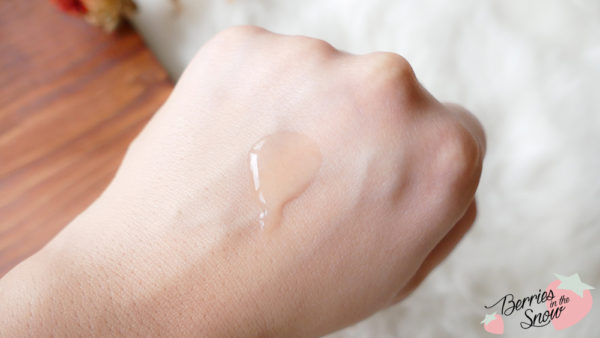 I'm really happy with both serums, although, I would wish that the Vitamin C in the first serum would be stabilized to make it last longer. I like the short and mainly plant-based ingredients lists and the fact that the products are free from 10 unwanted chemicals. Additionally, it is a plus that the brand is cruelty-free. On top, the price for the serums is super affordable with only 10.31US$!
If you are curious about these two serums you have the chance to win both of them on my Instagram account! Feel free to enter :)
Have you heard of Purito? And what serums are you using in your skincare routine?
♥ Pin It! ♥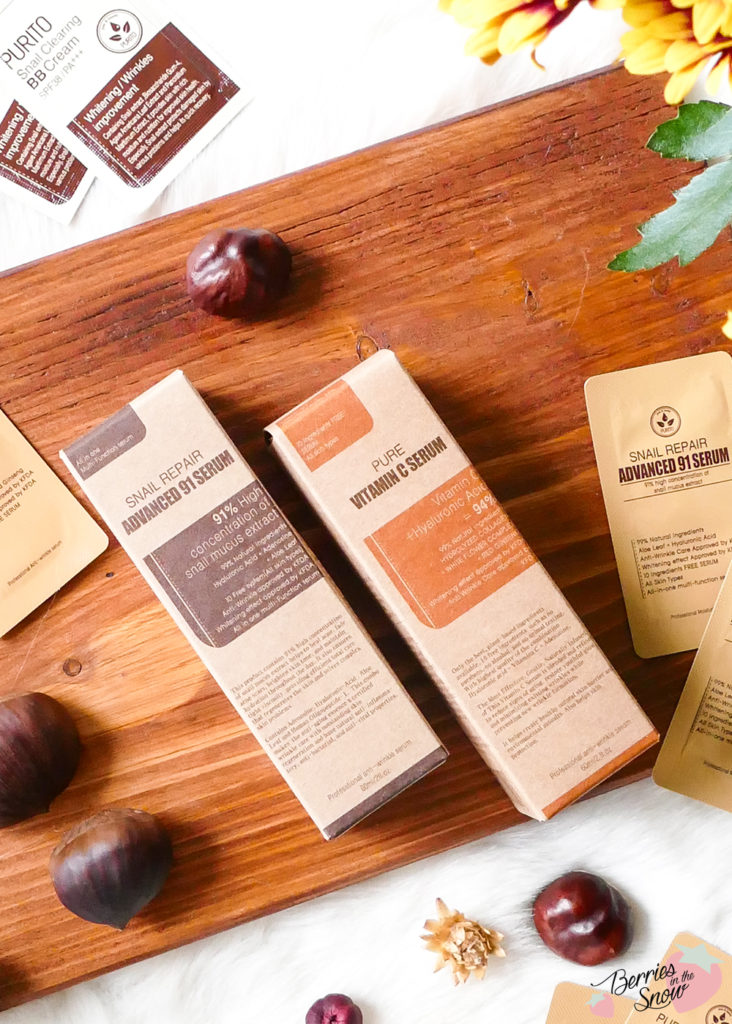 Just as a short reminder: All products mentioned and reviewed on this blog are of my personal opinions. This product here was sent to me for reviewing purpose by http://eopenmarket.com which doesn't influence me in providing my honest opinion on the products.