A week ago I was nominated by the wonderful Sakuranko for the Sunshine Blogger Award. Mostly I'm too lazy to do these awards, because I tend to be so uncreative, but since this is the fr st time I was nominated for it, I thought about giving this one a go ;)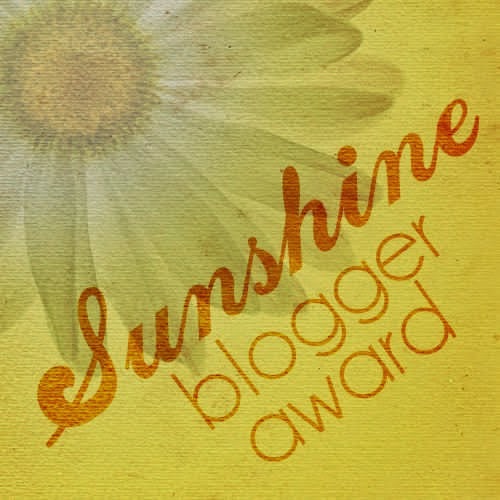 Here are the rules:
1.  Post a picture of the Sunshine Award
2.  Post 11 random facts about yourself
3.  Answer 11 questions from the nominating blogger
4.  Link back to the blogger who nominated you
5.  Nominate 11 wonderful blogger, that you feel bring sunshine to the blogging world. (Be sure to notify them)
6. Write 11 questions for your nominated blogger
♥ My random facts ♥
1. I've studied Biology and I'm writing my PhD thesis in this moment :D Yeah! It's nearly done :D

2. I'm not a good driver, when it comes to cars…it makes me feel uncomfortable >_<


3. I love food! I love to cook and to bake and I really appreciate it, when I have plenty of time to do so.
4. I'm a creative person and I love painting and drawing, but recently I didn't have a lot of time. That's why I'll be spending the time after my thesis with stuff like that for some time.
5. I'm in a bad mood when I'm hungry :D
6. I'm in a bad mood when I'm painting something and it doesn't work out the way I'd like it to be.
7. I love dresses and I have so many by know, that they don't fit into my dresser anymore ;_;
8. My favourite color as a child besides pink was red, when I was a teenager I hated the color red, and now it turns out I'm obsessed with it XD
9. I love dotted clothes…and I have a lot of them :D
10. My abilities to navigate are the most horrible ones…I even can get lost in the district I live in…:'D
11. I discovered painting tabletop miniatures is a great way to relax :D and it is super nerdy, too :D
1. 
What is your favorite lipstick of the year?
Until now it is Innisfree Color Glow Lipstick, although it was released Autumn of last year :D
2. 
Like nature? Yes, I love it! ♥ I really enjoy a good walk in a forest :)
3. 
You can describe yourself in three words? smiling, true-hearted, emotional
4. 
Who is your biggest fear? My biggest fear is loosing the people I love…
5. 
You feel comfortable showing your face on your blog? No :'D
6. Skirts or Pants? Skirt ♥
7. 
What is your favorite season? spring
8. 
What are your favorite makeup brands? This changes often :D at the moment I would say: Shiseido, The Face Shop and Innisfree
9. Cats or Dogs? both! I love animals :D
10. 
Study or work? Study :D
11. 
What was your favorite film of this year? This year I would say Frozen (or does this count for last year? Last year I would rather say "The Hobbit-part 2" :D) 
Here are the bloggers I'd like to nominate:
http://www.kawaiibeautycorner.com
http://keikeikirsten.blogspot.de
http://www.gwiyomistyle.net/ 
http://emi-doll.blogspot.de/
http://www.rinicesillia.com/
http://www.helloprettybird.com/
http://www.samplehime.com/
http://www.obviobsessions.com
http://ohsowai.blogspot.nl
http://www.misaraisu.com/
http://ameliorerlavie.blogspot.de/
Feel free to do answer the questions, but if any of you already did this award in the past and doesn't have any time or motivation in doing it again I won't feel hurt!;)
And these are my questions:
1. What is your Must-have beauty product? 
2. What do you prefer: reading a book or listening to audio book?
3. What made you laugh today?
4. Potato-Chips or chocolate?
5. Your favourite spring color?
6. You prefer watching a DVD/Bluray or going to the cinema?
7. Are there any items you are potentially hoarding?
8. What is your weakness?
9. Your favourite ice cream?
10. Tea or coffee?
11. Do you prefer BB creams or CC creams or foundation?