My little sister gave me a new nail polish as a present some days ago. It's a scented nail polish by H & M in a tulip shaped bottle in a light green shimmering shade. I always wanted to try a scented nail polish and this one especially comes in a cute shape, too. ♥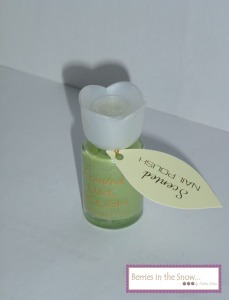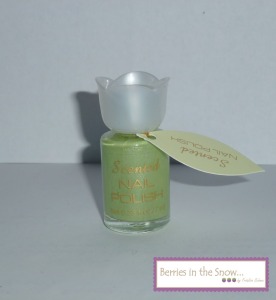 The scent is a sweat, flowery one and it's rather intense to that degree that every time your hand is near your face you will smell it. I like it, because this scent is far more pleasant than the typical smell of most of the nail polishes, especially the first day after you apply them.
The brush is soft and not to broad and the appliance is easy. Nevertheless the nail polish itself is very, very sheer. With one stroke you only see a shimmer of the color on your nails, but it is buildable the more layers you add. I applied first one thin layer and then a second one. You can see it on the image below.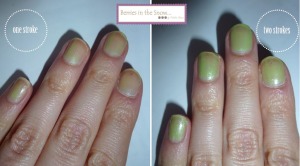 I recommend this nail polishes for people that firstly are not sensitive to scents/ perfumes, secondly, like to collect cute-shaped things (the packaging is really adorable ♥), thirdly, everybody who likes spring colors and light shades on their nails. It is also easy to remove it afterwards. The quality might not be the best, but it is a nice gimmick. I also think the rose-colored one is a nice nude/ shimmery nail polish. I like it.
This nail polish is also available in rose. Each cost €3.95, contain 7 ml and you find them
here
.