I'm am very happy to announce you a new giveaway sponsored by MeMeBox, and , most important of all: there will be not only one winner, but 5 winners in total! MeMeBox is a box service company, offering a wide amount of different beauty boxes. Unlike most western beauty boxes which have to be subscribed for on a monthly basis, MeMeBoxes can be preordered but that doesn't force you to buy more than the desired box. They ship to many countries and the products they send in their boxes are mainly Korean. Apart from their Global Boxes like the ones I reviewed previously (check out the links at the end of the post), they also have a huge amount of themed boxes, Mini Boxes, Boxes where you know what is inside, so called Superboxes with a higher value and so on…just check out their online store and you'll find a huge selection of different boxes. Since they have become very popular within the blogger community they sell out pretty fast, but they bring up new beauty boxes so fast, that you cannot keep up with them anyways.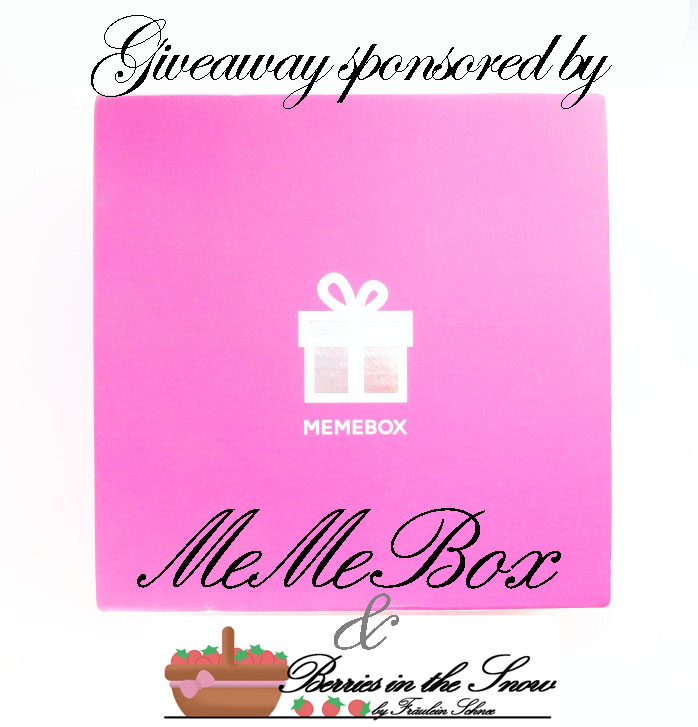 As I said, there will be 5 winner chosen randomly via Rafflecopter. The prizes that you can win are the following:
1. MeMeBox Whole Grain Edition
2. MeMeBox Mask Edition
3-5. 10 MeMePoints worth 10 US$ until end of June.
Use the Rafflecopter application to join the giveaway. No cheating, I will check on the entries. This giveaway is running until 25th of June, so those people winning the 10 MeMePoints will be able to use them also. also, in order to receive the prizes you'll have to sign up at MeMeBox page, otherwise they won't be able to give you the points or send you the prizes. If you'll create a new account you'll receive 10 US$ MeMeponts automatically upon registration anyways.
Apart from the giveaway, if you might like to check out MeMeBox: Here is a list of the current events/ promotions to save some money:
For signing up you receive 10 MeMePoints worth 10 US$ at the moment
Free shipping on orders above $70 from Memeshop: FREESHIPPING
$5 off on orders over 3 Memeboxes: MEMEBUNDLE3 
For ordering  the MeMeBox From Nature,  Free from Oil&Troubles 3, Skin Care, Burst of Color,  Superbox #30, Superbox #31 and Superbox #24 with my affiliate links you'll receive 3 US$ off automatically. If you buy 2 or more of the SAME boxes, you will only get $3 off from the total amount. If you buy more than 2 different boxes, you will receive $3 off per box, which gives you $6 off.
You can also read my previous unboxing posts:
MeMeBox GetItBeautyBox Global No. 11
MeMeBox GetItBeautyBox Global No. 10
 MeMeBox GetItBeautyBox Global No. 8
MeMeBox GetItBeautyBox Global No. 6
♥Good luck to everybody!♥