Wonderful Lisa from
Améliorer la Vie
nominated me for my first Liebster Award! She is one of my first readers and that makes me so happy that she nominated me ♥ Please go over to her blog and have a look at it!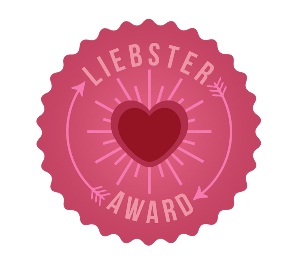 Liebster Award is created to help newbies with less than 200 followers to gain new readers and presence in within the blogosphere. It's rules are:
1. Each blogger should post 11 random facts about themselves.
2. Each blogger should answer the questions the tagger has set for you.
3. Choose 11 new bloggers to pass the award to and link them in your post.
4. Create 11 new questions for the chosen bloggers.
5. Go to that bloggers page and tell them about the award.
6. No tag-backs.
Here are 11 random facts about me:
1. I love food! I like eating the whole day and I have always some fruits or nuts or chocolates beside my desk at work. If I'm hungry I can get really grumpy…
2. I keep a lot of stuff, although I don't need it. Maybe I'm kind of a hoarder :D
3. I have a diploma in biology, but if you ask me about plants I have no clue.
4. I cry sometimes when I'm very happy.
5. I'm a fantasy nerd and I have seen Lord of the Rings at least a dozen times.
6. I have worked at Mcdonald's
7. I did Taekwondo for more than 10 years.
8. I love my self made Lasagna more than everyone else's Lasagna I tried.
9. I live in Germany but I don't like beer.
10. I don't have any tattoos or piercings other then my ears.
11. I don't drink coffee.
Lisa's questions:
1. Can you share one of your best beauty secrets? Coconut Oil. I use it as a body cream, for dry patches and for my hair and it smells delicious :)
2. What is a challenge that you overcame in your life? When I finished school and it was time to go to university it was really a hard challenge for me not to be introverted as usual and to overcome my timidity in order to make new friends. But I was really proud after I did and that made me a little bit more confident. For some of you it may not be a great challenge, but for me it really was!
3. What is something you wish you could do but haven't done yet/can't do? I wish I could start doing something more creative as my everyday work. Perhaps I will start some kind oft crafty business in future :D
4. What was your favorite trip & why was it your fave? My favourite trip was my vacation last year. My boyfriend and I did a road trip with his van for one month. We went from Germany, through Italy, Greece, down to Turkey. In Istanbul we joined my family for my cousins wedding. That was the most wonderful and enjoyable trip I did ♥
5. Could you tell about a great deal you've recently found? There is nothing really coming into my mind now…
7. What is your best personality trait? I'm friendly and openhearted…to everyone, unfortunately also to people I should not be…
8. What are some of your favorite stores or brands? Monki, Skinfood, Missha, Topshop, Wheels and Dollbaby…I think there are some more….:D
9. What was one of your biggest/funnies fashion faux pas? I loved to wear a navy green jeans together with a bright yellow cord zipper in my teens…the pictures from that time are still awful to look at :D
10. What country/region do you currently live in? Germany
11. What made you first decide to start a blog? I started having fun reading a lot of beauty reviews, especially about asian cosmetics, and reading those reviews it made me buy a lot of stuff, so I decided that I like to do some reviews, too…And even if nobody would read it, it would be a kind of beauty-diary for me.
1. What beauty product is always in you handbag?
2. What was the ugliest nail polish color you bought?
3. Name one of your bad habits?
4. What country do you want to visit at least once in your life-time?
5. What is your favourite blog to read?
6. What's the next cosmetic article you will buy?
7. What's your funniest childhood memory?
8. Lipstick or Lip gloss?
9. Name three things you would take to a lonely island.
10. What's your favourite movie?
11. Describe yourself with 3 words.
and here are the blogs I nominate: