Hello everybody ♥
I'm back from my holidays finally and after my short blogging break it is time to continue with a lot of reviews. I have still so many products waiting for being evaluated, so I better get started right away! ✿◕ ‿ ◕✿
A mask I used before my vacation is
Innisfree Capsule Recipe Mask Jeju Bija and Tea Tree
. It was send to me by
BeautyChamber
for reviewing purpose and I liked this one a lot.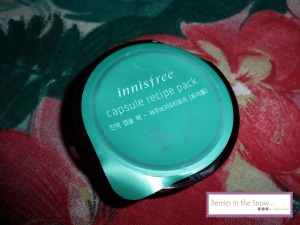 There are 12 different types of Innisfree Capsule Recipe Mask, so have quite a variety to try. Each Mask comes in a small plastic capsule and contains 10 ml product. The packaging is neat and each type comes with another color on the lid. The Jeju Bija and Green Tea Mask has a bright green lid.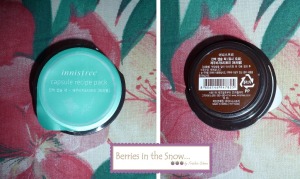 The product is light green color, too and has the consistency of clay. After you put it on your skin you have to wait 15 minutes or longer until it dries. Afterwards it can be washed off. It has a herbal scent at the beginning, which wears off while the mask dries up. After washing the mask off, the skin feels clean and refreshed. It was a nice feeling and I enjoyed using it. It also worked calming, I guess because of the ingredients of Jeju Bija and Tea Tree.
Each capsule contains enough product for 3-4 times usage. You can re-close the lid by putting it into a special slit in the plastic capsule. It is not 100% closed tightly then, but I stored it in the fridge and it didn't dry up. If you want to be more sure you can just close the lid with additional wrapping film ;) I'll leave you with a funny pic of me wearing this mask :D Hope I don't scare anyone :D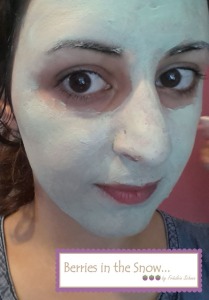 You can get Innisfree Capsule Recipe Masks from Beauty Chamber. At the moment there is a back to school promotion with 10% off the entire order. It doesn't list all the products which are available, so if you are looking for something special like this, write an Email to Amber, the shop owner, and she'll give you a quote. She is very nice and answers fast to your emails. She has a blog at http://chamber2u.blogspot.tw/. Check out the facebook page, too: https://www.facebook.com/beautychamber2013
Did you try out these Capsule Masks from Innisfree? Which one did you try and how did you like it?
Just as a short reminder: All products mentioned and reviewed on this blog are of my personal opinions. This product here was sent to me for reviewing purpose by http://beautychamber.bigcartel.com, which doesn't influence me in providing my honest opinion on the products