Luckily, getting older also brings us a couple of advantages, like less pimples and acne. I had lots of them during my puberty, but times changed and my skin got better and today I'm really happy with my skin apart from having occasionally one or two pimples after eating too much unhealthy food or during the special time of the month. But still we all know the feeling of getting these red bumbs on our face and resisting as good as we can to touch it, or even worse, to squeeze it. I never tried anti-pimple patches before, but the COSRX Acne Pimple Master Patch got so much worldwide attention within the beauty community (it was mentioned by "Cosmopolitan"), that I wanted to try them myself. During Wishtrend's February promotions they gave one sachet of these for free on every order, and since these patches are quite cheap I bought a second one for me and one for my sister. By the way, during this month you can get a free ElishaCoy Sheet Mask from Wishtrend :)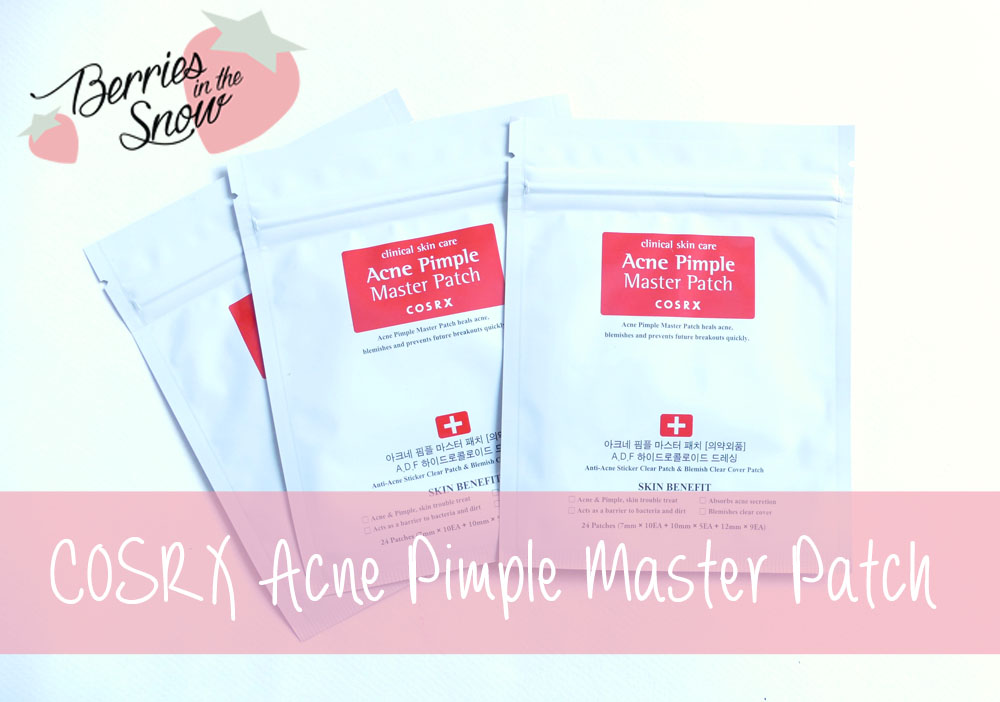 COSRX is a affordable Korean brand "offering good quality beauty items for 10 years". The brand name is composed of COS for cosmetics and RX for prescription. Brand like Ciracle and C20 (yes, the famous vitamin C serum) are also part of COSRX. One of the rather popular skincare lines from COSRX are the AHA/BHA skincare products. I've also bought the BHA Summer Pore Minish Serum and the AHA/BHA Clarifying Treatment Toner and I'm looking forward to write the reviews for these two. But let's get back to the COSRX Acne Pimple Master Patch first: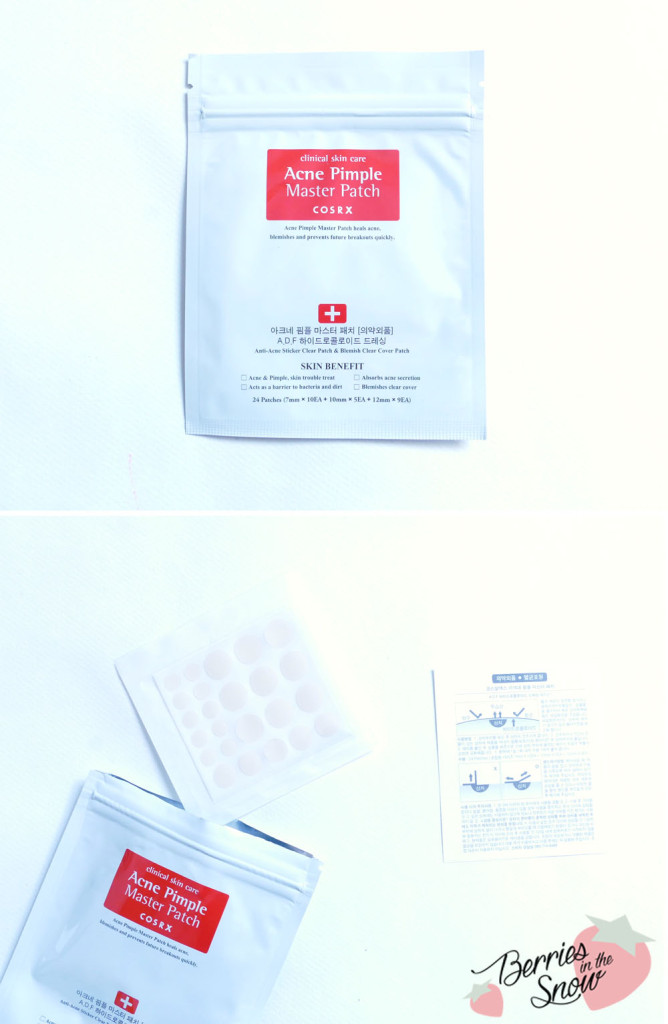 These anti-blemish patches come in a simple sachet packaging. COSRX products have usually very clean and simple packaging designs, reminding of prescription medicine. The sachet has a zip-lock opening, so you can easily store the remaining patches and keep them safe from dust and dirt. Each sachet contains one sheet of patches. There are 24 patches on each sheet (9 large patches (12 mm), 5 medium patches (10 mm) and 10 small patches (7 mm)). Apart from the patches you'll find an instruction paper in Korean inside the sachet. The backside of the sachet also contains Korean description, but also shows a short English instruction.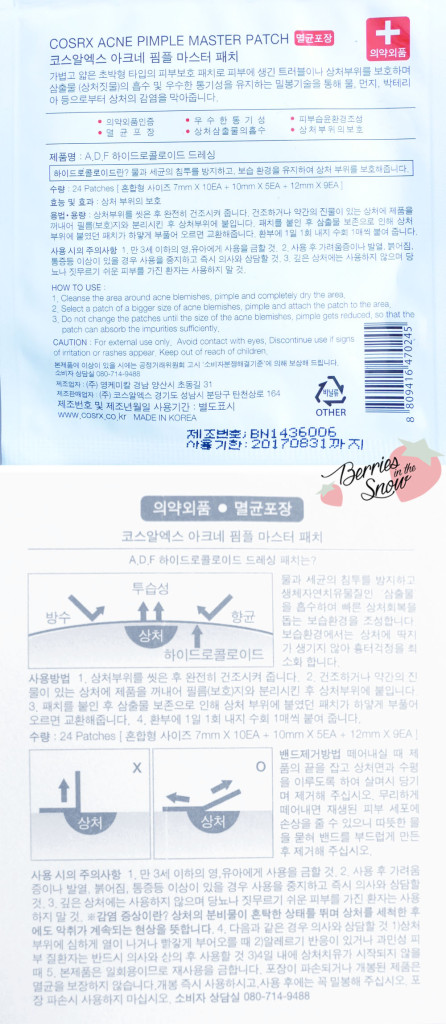 All in all, these patches are very easy to use. You find some more English description on Wishtrend about the COSRX Acne Pimple Master Patches. The light yellow colored patches can be applied on a pimple oder blemish after the area has been cleaned and dried of course. It keeps dirt from getting on the inflammated are and also keept you from touching it. The patches are party transparant, so they are not too obvious. I read that some people also use makeup above the patch. So, the patch helps healing your targeted area, and what should I say more….it works. I tried it on a little pimple on my forehead. I applied the patch in the morning. In the evening I removed it, cleansed my skin again and went to sleep. The next morning the pimple was gone. You can see the pictures below:

For my low blemish concerns these patches work perfectly. I cannot speak for anyone with more severe skin troubles, but if you are looking for some good and effective anti-acne patches I would recommend these. There must be a reason that so many people seem to like these patches. It proved its effectiveness to me and mabe my before and after pictures encourage you to try it. A sachet of these COSRX Acne Pimple Master Patches containing 24 anti acne patches retails for 3.90 US$ at Wishtrend. Check out the Wishtrends promotions for April, too (you'll receive one free ElishaCoy Vitamin Collagen Mask Sheet on any order). You can check out my post about the promotions for April >>here<<.  Also, keep in mind their friend-referral program: You can receive a 5 Us$ referral coupon if you use my invitation code 17939205 upon registration and you'll receive this voucher immediately. There will be a specific field in your registration form called "friends invitation program" where you can put the code mentioned above. This way new customers can safe 5 US$ which is a great possibility to safe some money.